About Loomis & LaPann, Inc.

Loomis & LaPann, Inc. is an independent general insurance agency based in Glens Falls, New York. Our company traces its origins to 1852, a time when the U.S. insurance industry was in its infancy.
It has always been our policy to focus on particular industries so that the knowledge and expertise we accumulate recommends us to specific customers. That policy has taken us across North America to serve businesses as varied as fish canneries and lumbering in our early years, to our current specialty, Amateur Sports Management.
Today we provide a wide range of insurance coverages for amateur sports groups and associations. Loomis & LaPann works directly with various insurance underwriters to provide the most comprehensive insurance products and best possible service available in the marketplace.
Beyond Sports Insurance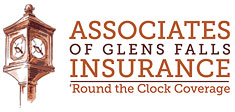 In October 2015, Loomis & LaPann, Inc. was acquired by Associates of Glens Falls, Inc. (AOGF).
AOGF specializes in all types of personal and commercial insurance. The AOGF agents service clients locally and across the United States, and operate in-house, concierge claims and loss control departments.
The AOGF website and mobile site offer free, instant, online insurance quotes and offer an online defensive driving course link, saving consumers money on auto insurance.
Associates of Glens Falls, Inc. and Loomis & LaPann are licensed in all 50 states.
For more information visit www.aogf.com
To find out more about how we may assist you, please contact us today!